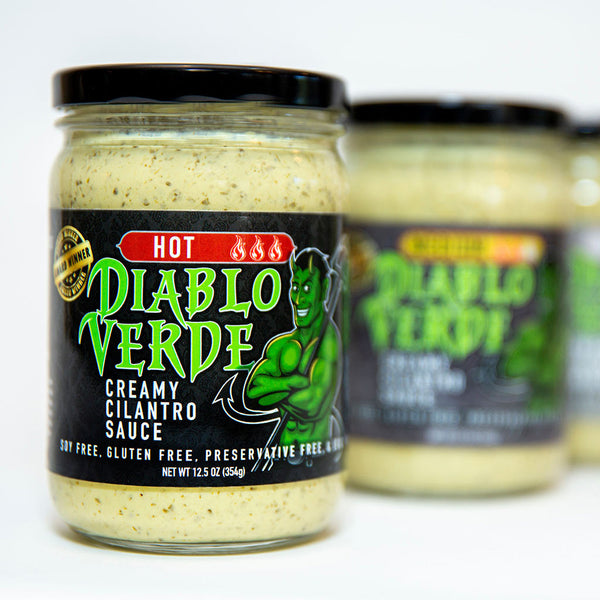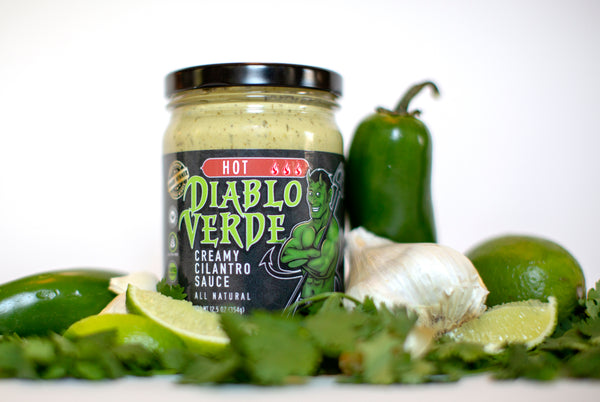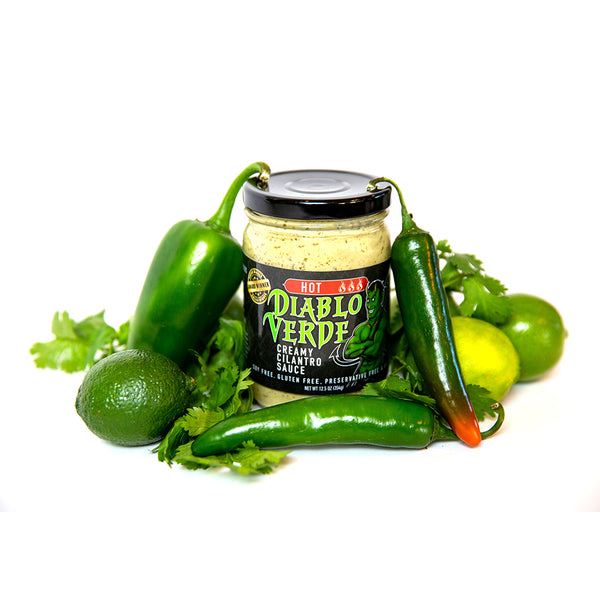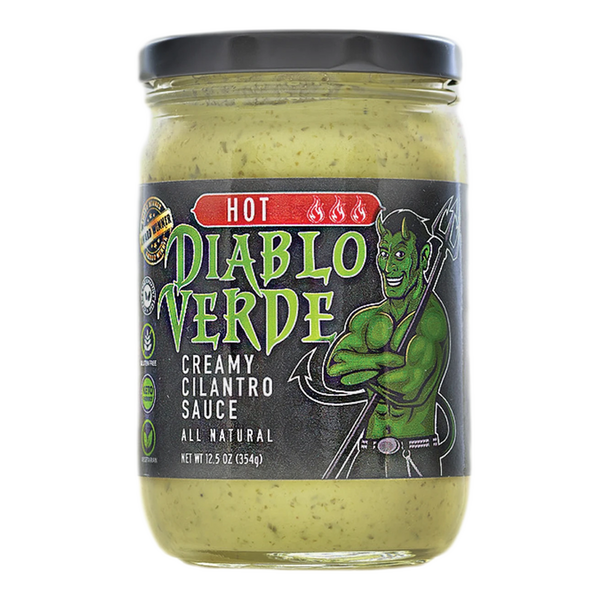 If you're looking for a salsa with a heat that lingers, our award winning, devilishly good, Diablo Verde Hot creamy cilantro salsa and ultimate cooking sauce is the perfect choice for you. All natural, nothing synthetic, nothing artificial, preservative free, gluten free, egg free, soy free, nut free, BPA free and 100% full of flavor! 
Our Diablo Verde Hot has a very layered flavor; first you experience the creaminess of the Buttermilk, then the fresh flavor of the cilantro, garlic & fresh squeezed lime juice, and lastly the heat from the jalapenos & serrano peppers hit your palette. 
The flavor of Diablo Verde is like none other, our locally sourced, hand selected, fresh ingredients make this Devilishly addictive salsa an extremely versatile sauce.
Ingredients:
Canola Oil, Water, Jalapenos, Cilantro, Lime Juice, Dehydrated Buttermilk (milk), Serrano Peppers, White Wine, Vinegar, Cornstarch, Garlic, Salt, Sugar, Dehydrated Onion, Spices, Xanthan Gum
Instructions:
Open up and pour onto your favorite salad for an added kick or use with your favorite sandwich spread to bring some spice. Diablo Verde Hot also is a great topping for baked fish, grilled meat, and so much more!
Also available in Mild and Medium.

GENERAL INFORMATION: 
Allergens: Manufactured in a facility that also processes wheat, dairy, fish, soy, tree nuts, and shellfish.
Safe Handling Instructions: Store in Pantry and once opened, shake well. Refrigerate after opening
Cuisine: American, Tex-Mex, Mexican, Middle Eastern, Latin
Key Features:
Diablo Verde is the condiment of the future. All-Natural, Keto-Friendly, Gluten free, Preservative free, Egg free, Nut free, Soy free, and 100% full of flavor, making it a great addition to healthy cooking! This award-winning salsa is your go-to for everything from dips, to salads to an extremely versatile cooking sauce!
Orders received before noon on a weekday will ship out same day. All orders after noon on a weekday will ship out next day. Weekend orders will be processed on Monday.